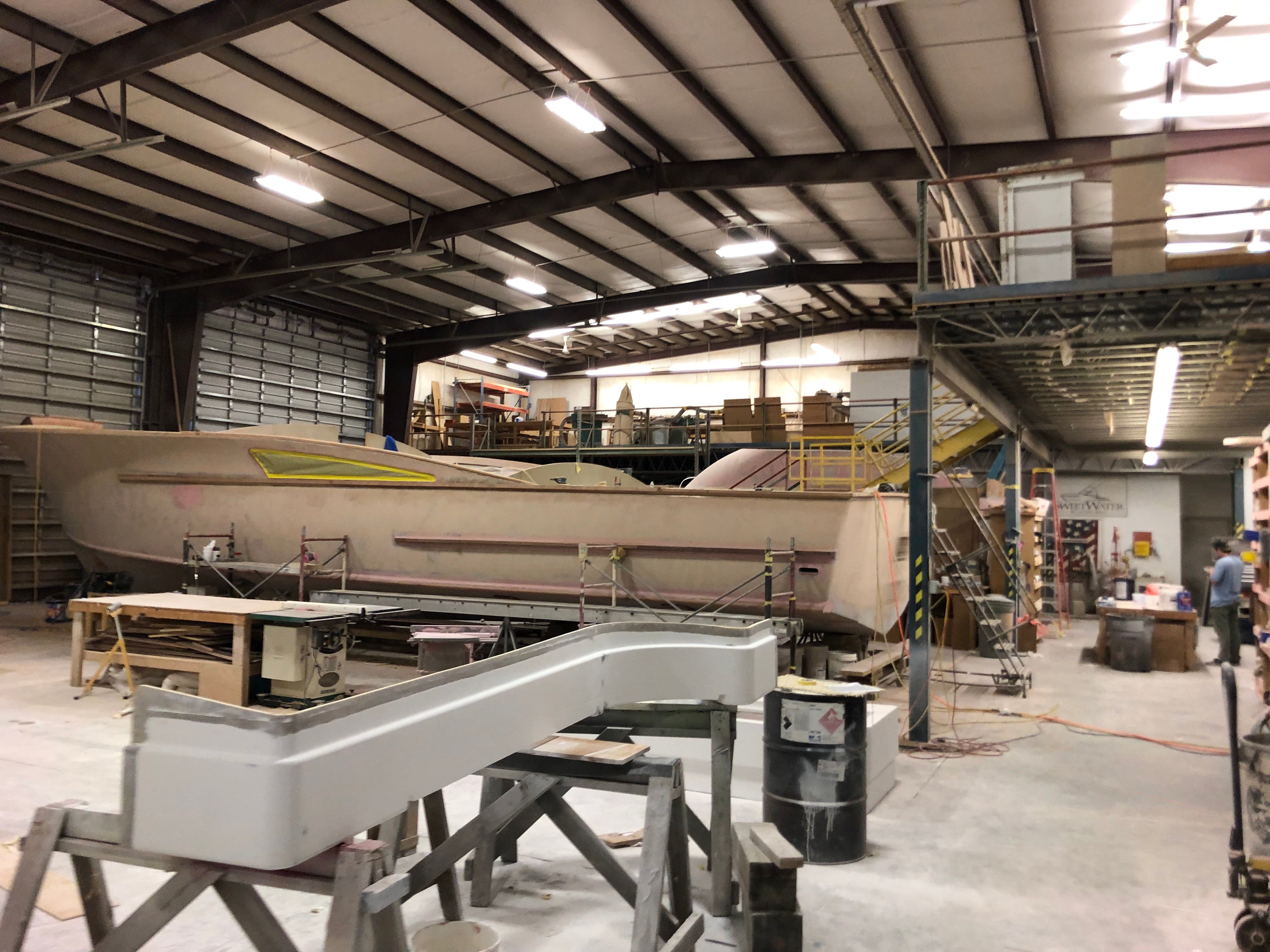 With this business we have had the good fortune to see many amazing boats and the places where they come alive. While we have been stuck inside, as have all of you with the current events today, we took some time to scroll through the old trips and wanted to share a few pictures and comments along the way of our journey inside the barn of a few of these builders. 
OBX Boatworks:
Located in the Triad region of central NC, OBX Boatworks is based in the old Hatteras Yachts warehouse and it is an impressive building.  Not only large in scale, the ability to see how the factory was set up to support the production of these sport fishing yachts is awe inspiring and impressive.  You get the sense that there is something special happening in this building with Brad & his team. 
Caison Yachts:
The team at Caison Yachts have been cranking out awesome sport fishing machines in Hampstead NC for years. The ability to meet all of your custom needs while leveraging the new technologies that hit the market make them a great partner for new builds.  
Scout Boats:
One of the first things I noticed when visiting the Scout Boats facility was how clean and organized it is.  These guys are cranking out some awesome boats from Charleston, SC.  As shown above, every tool had a home and you can tell that the employees operate here like a well oiled machine supporting their needs and those of their teammates. 
Croswait Custom Composites:
With boat building in his blood, Aaron Croswait and his team are building a brand with some awesome center consoles while providing repairs for customers that are top notch.  That paint job is still amazing in this picture but it was 100X better in person. 
Scarborough Boatworks:
The family at Scarborough Boatworks is first class. I can't say enough great things about Ricky Jr. & his team at Scarborough.  They run a first class business and the passion for their craft is evident in every build.  This old school barn in Wanchese, NC makes some of the most impressive art you can see floating on the water. 
Albemarle Boats:
Located in Edenton, NC; Albemarle Boats builds fishing boats that can also be comfortable for everyone in the family.  The team here takes pride in what they are building and continue to push the envelope in packing the most into every inch of their boats. Burch Perry's team is first class and it is seen from the top down. 
Paul Mann Boats:
This boat is as big as it looks and even bigger in person.  Paul Mann's team has been building some amazing boats in Manns Harbor and have had to expand their facility more than once to meet the demand for their boats. This team isn't afraid to push the boundaries and it is present in every build but you can't miss it with one of their latest builds named Jichi. 
Freeman Boatworks: 
The boys down in Summerville are doing something right.  Their brand is known across the globe and they were even invited to the White House last year to be showcased as an American Brand.  Their boats are sleek, fast and fishing machines. Seeing where they were built lived up to the expectations and having several getting rigged out at once was impressive to see. 
---